5 things you need to make the best affordable website
Here are 5 things you didn't know you needed to make your affordable website its best. It is exciting starting your own business and growing it. Your website is a great tool to making this happen.
1 Good Hosting
Number 1: Good Hosting. Ok, so you may of heard of this but these days you can get little 'extras' included with your package. See if you can get a more affordable price for opting longer than a year – some do 3 years, maybe 5; it's worth asking. The best packages include an SSL certificate – so keep a look out.
You then need to check if it is manually installed (you have to do it each year) or do they do it automatically? If you don't know what an SSL is- see number 2.
2 SSL Certificate
Number 2: SSL Certificate. When potential customers are looking through your site, they want to be sure your site and their details are secure. How can they tell?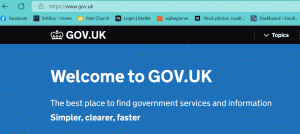 If you look above when it brings up the website you may be looking for, you will find 'https' in from of the URL/web address. That 'S' makes all the difference; the website is secure. Also, there is a locked padlock image.
These 2 measures mean this website is safe, secure and genuine and it is ok to go ahead. You will be safe and so will your potential customers when they visit your new site.
Your website with me will come with a free SSL for the first year and depending on your hosting and maintenance options, could come included each year and uploaded for you. This feature adds value to your affordable small business website.
3 Logo and/or branding
Number 3: Your business name needs to stand out and for that you need a logo and preferably some simple branding too. This is a very personal creation for you but can also be very time consuming. You need a colour scheme, an easily recognisable logo that immediately tells your customers that it is your company. Do a quick search on the internet and you can see how others have done it.
The best logos are simple
One thing they all have in common, though, is that they are simple to the core.
Metal colours are not used as it is difficult/expensive to reproduce on the internet;
Each colour has a hex number eg #000000 or RGB value on the red, green, blue wave length. Please see my blog on working with colour palettes for further help.
Branding utilises these colours and their schemes to make sure you have uniformity over your website and marketing initiatives.
It will cost you to do this but it its still affordable. I have used Looka and bought their package that gives me my files in different formats to use on the internet, but it is only a one time cost. If I want to change later with the same name, I can update for the same cost. Keep a look put for this type of package.
4 Search Engine Optimisation (SEO)
Don't know your CEO from your SEO? Now you will. You know all the times your search for websites on Google, Bing or other search engines? It often says something like '1,300,000 entries in .25 seconds'.
The trick is how do you get YOUR website to the top of those millions of entries? This is where SEO comes in. It is a skill where you optimise your website with certain terms and data that search engines will find useful and safe. Then according to how well this is done you 'move up' the search engine rankings so your customers can find your website.
If it is done badly your site will be penalised and 'moved down'. So, including this 'behind the scenes help' is still the best value and affordable.
5 Responsive Pages
Whilst you are reading this, you are likely utilising my website responsive pages. These days, people have laptops, phones, tablets etc. They all have different size screens with which to view your films, emails or webpages.
A good website has the ability to show its pages on all these different screens. For example, on a mobile phone, webpages are often tiled on top of each other whereas on a PC they may be side by side. Who knew? Now you do.
All good things need looking after. Have you thought about how you are going to maintain the website for your new or small business and still make it affordable?
Maybe it hasn't been looked after and its not at its best. Perhaps, the website for your church or blog is experiencing problems?
Have a read of this short blog about the top 5 reasons why you need maintenance for the website your business relies on. This will give you the best and affordable website for your small business.